Revett Series Week 4 – the penultimate weekend
45 boats took to the water for the 4th week of the Revett winter series at Leigh & Lowton Sailing Club. Another week of classic conditions; this time 8-14 knots from the the SW gave competitors some excellent racing conditions, with significant gains available from the bands of winds raking down and across the flash. OOD Steve Norris was able to lay an excellent round-the-cans course with good beats and runs and the odd reach thrown in for good measure.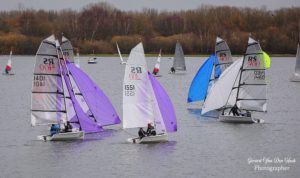 In the Laser fleet, Charlotte Greenhalgh (LLSC) and Howard Green (LLSC) broke free from the pack to have a close race, with Charlotte just pulling away at the end, Stuart Belfield (LLSC) came in 3rd. In the second race Stuart took charge of the racing and won from Ollie Blackburn (LLSC) with Howard pushing him hard to a close finish in 3rd. Tight battles all day long and no room for complacency. Charlotte still leads the series and it would need a couple of bullets from Howard or Paul Heath next weekend and an off day from Charlotte to make that happen; the other podium positions are wide open for the taking.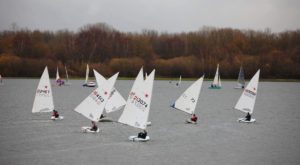 Andy Couch rocked up for his first weekend of the winter in his Phantom and got out in the straps to take two bullets, but closely chased by the Flying Fifteen of Andy McKee and Richard Jones (Llandudno) in the second race. Martin Knott (Ribble) and Steve Blackburn/Royston Taggart (West Lancs/Pilks) caught the other two podium positions in the second race, while Julia West/Joe Hartigan (LLSC) sailed a good second race to take 3rd. Steve/Royston's performance this weekend was enough to clinch the series with a Sunday to spare but all the other positions are up for grabs.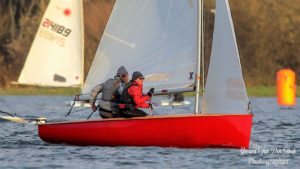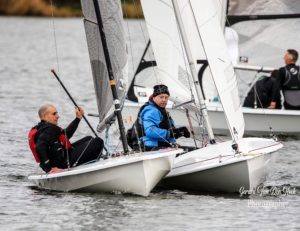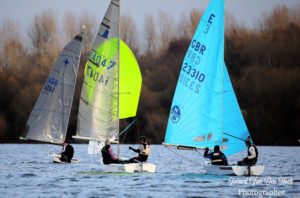 The Asymmetric Fleet had some very tight racing with all the sailors well in the mix at some stage of the day. After a very congested first mark where series leaders Dave Exley/Nigel Hall (LLSC) had to do a penalty, Richard Catchpole/Gary Coop (LLSC) broke free and took the first race. Exley/Hall rallied round to take 2nd on the water but Louise McKeand/Cathy Partington (LLSC) sailed an excellent race in their RS200 to pip them by 4 seconds. Catchpole/Coop took the second race in a tight finish from Exley/Hall and this time Caroline Exley/Andy Dawson (LLSC) went one better than their first race to take 3rd.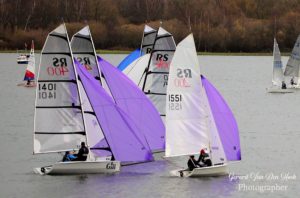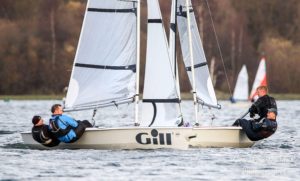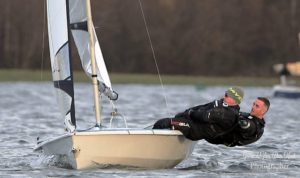 Brian Sprague (LLSC) wrapped up the Solo series with a weekend to spare with another fine performance in Race 1. Nik James (LLSC) has been getting closer all series though and wasn't far behind in the first and took the second race from Andy Fox (LLSC) while Brian put his feet up! Kim Cant (LLSC) and Stuart van den Hoek (LLSC) battled for bronze all day ending with one apiece, with Kim really pushing Andy in the last one.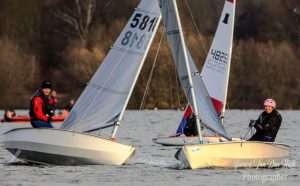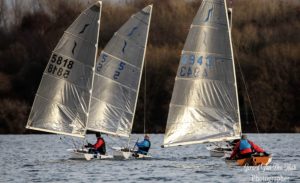 It's a 3-way split heading into the final weekend of the Junior fleet after results this weekend have left all the leaders on 6 points. Ben Welfare (LLSC) took to first with Tomas Link (LLSC) second and Leah Fidling (LLSC) only 1 second behind in 3rd – what a tight finish! Thomas doubled his margin over Leah to 2 seconds (!) in the second race and Ben had to settle for a 3rd place. Looking forward to seein what's in store next weekend in this fleet.

Next weekend is the last of the Revett, followed by the New Years' Day race and Marlow Tipsy Icicle Series over 11 weekends in January to March as usual. All events are open to visitors and can be entered online at:
https://webcollect.org.uk/llsc/event/winter-2018-2019
Full racing results here: