Sunshine & Breeze for Week 8 of the Tipsy Icicle
Blue skies and a great forecast brought 60 competitors out for the 8th week of the Tipsy Icicle Series at Leigh & Lowton Sailing Club on Sunday 25th February. The wind didn't disappoint with 10-14 knots, gusting 18, ENE to SE in the first race and a little less and steadier in the second.
The first race clocked all the way round to ENE on the start to make the first beat port-sided but then swung all the way to SE (below) during the race to end up starboard-biased later in the race – quite a swing to keep competitors guessing…..some great windward-leewards for the asymmetric boats and fast reaching for others on 2 different courses. Near perfect conditions!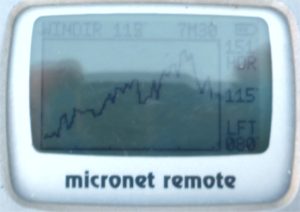 Lasers
Ollie Blackburn (LLSC) found conditions to his liking in the first race in his radial and clocked his first race win of the series, in front of the standard rigs, he continues to lead the radials. Tim Keithley (West Riding) won the second race of the day to put him firmly in 2nd place in the series. Paul Heath (LLSC) had a great day with two 2nd positions, showing some real consistency, while Graham McWhirter (RYA) notched up two 4th places – now tied for 3rd overall with Gary Knott.
All photos by Peter/Mike Baldwin
Handicap
A couple of great starts put Steve Blackburn (West Lancs) out in front again, with a 1,2. It's going to take some catching now from Andy Flitcroft (Bolton) in his Supernova (3,1 today) to make up the gap, but there is still time. Graham Bristow (LLSC) followed Steve's lead to pick up a 2nd in his Streaker and Mike Banner/Mark Atherton (LLSC) had a consistent day in the front few. A great day for the Phantoms to enjoy reaching across the Flash!
Asymmetrics
Richard Catchpole/Gary Coop (LLSC) pulled out a healthy lead in the first race, only to stick the mast in the mud on the last gybe….leaving Dave Exley/Nigel Hall (LLSC) to overhaul Hamish Gledhill/Mark Lunn (West Riding) at the death to pick up 1st. Bill Kenyon/Ben Swinson (Budworth) sailed well to come in 3rd. Both Caroline Exley/Joe Hartigan (LLSC) and Bill & Ben decided to take a cooling off period in the 2nd race! This left the battle for lines honours between Exley/Hall, Catchpole/Coop and Gledhill/Lunn, ending in that order. It seemed to be an unusually unstable day for the 400s. The 29ers showed some good pace but couldn't break through.
Solos
A good fleet of 9 Solos fought it out this weekend with some of their best racing of the series. Innes Armstrong (Burwain) though took a commanding lead in the series with a 1,1 finish, while the other podium places were shared between Andy Fox (LLSC) Brian Sprague (LLSC) and David Tunnicliffe. Innes can still be caught but on this form it looks like a stretch for anyone to get close enough.
Juniors
The battle at the front of the Topper fleet continues to be tight. Noe Peckham (LLSC) and Thomas Fielding-Link (LLSC) shared a 1,2 each, and Noe keeps a one-point lead in the series. This is going to be close all the way to the end. Ben Welfare (LLSC) had a consistent day with a 3,4 in his Oppie to cement his 3rd place overall, but couldn't match the pace of the Toppers in the breeze. Adam Din (Hollingworth) clocked a 3rd place in his Laser Radial.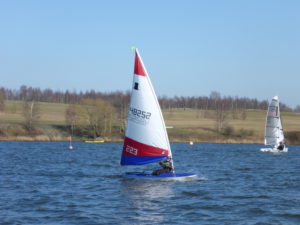 2 weeks to go in the series – plenty of action to come…….
Full results available here:
http://www.llsc.org.uk/LLSC/Results/2018/Tipsy.htm?v=1
The Tipsy Icicle Series continues until March 11th every Sunday, series entries are closed but competitors can still turn up and pay on the day.
This is followed on March 18th by the RNLI Open Event with asymmetric, handicap and junior fleets planned for this event, once again race managed by Peter & Judith Baldwin.