PUSH THE BOAT OUT 2015 – One Family's 1st year of sailing experience
Andrew & Joanne Shepherd…
…and…Ellie (13), Abbie (11) & Lucy (8)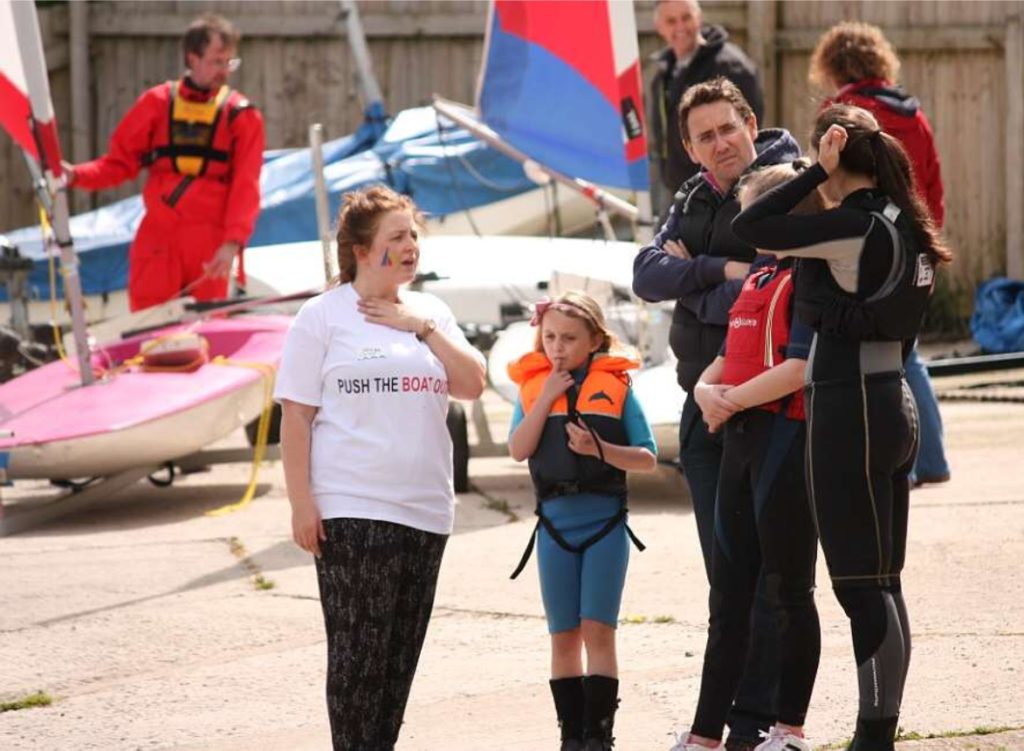 We joined the club May 2015 following the Club  open day – Push The Boat Out.
We are local to the area and we were very familiar with Pennington Flash.
I've always enjoyed water sports and, with a longterm dream to sail around the Mediterranean, I started looking into learning to sail. Conscious of the boats on Pennington Flash, I came across the sailing club's website  and the forthcoming open day. I was amazed with the club set-up, the friendliness of the club and our journey started from there.
At that point we really didn't have a clue about boats, how to sail, what to wear – we were all complete novices.
Joanne and I signed up for the RYA1&2 courses – I did the course in May, Joanne did the course in August. The girls also joined the Friday evening courses.
The adult RYA1&2 course – led by John Kelly – was absolutely brilliant. This obviously taught us the basics of sailing, handling/rigging boats and much more. More importantly, it allowed us to get to know a number of experienced club members, to meet and bond with "sailors" at a similar level to ourselves and to ask all the daft questions you can imagine and get real insight into the club and how it operates. The friendship with some of the other sailors continues today – we sail together and there's always a friendly face at the club.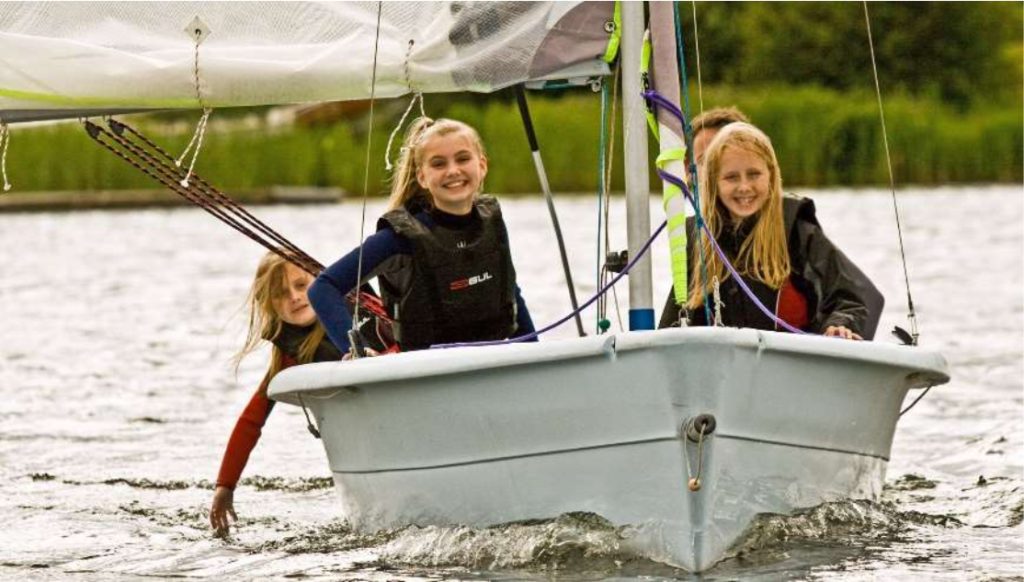 We bought a second-hand boat in the summer of 2015 (an RS Vision) and for the rest of the year we just sailed on Pennington Flash – gaining more confidence on the water. This was usually on a Sunday afternoon, whilst the safety boat was around!
Ellie and Abbie enjoyed the Friday evenings – even though they joined part way through. Lucy was a little too young at the time having just turned 7 and, whilst she gave it a go, she wasn't confident. She's trying again this year. Ellie and Abbie also attended the October 2015 half-term camp which they thoroughly enjoyed.
A highlight for 2015 was having the confidence to hire out a Hobie 16 Catamaran whilst on holiday in Spain (for around €40!), taking family and friends out to sea – that was brilliant. Obviously, without the training from John, that would never of happened. A step closer to the dream too!!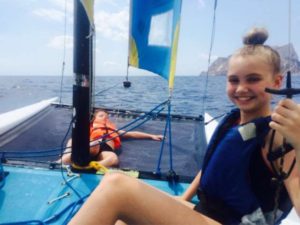 Towards the end of 2015 I did the Powerboat training (with John Kelly) and also the Assistant Instructor course – mainly to help out with the kids training on Friday evenings.
So, having started this last year, our plans for 2016:
The girls are signed up for the Friday evening training – we will see where that takes them;
The club is a very well regarded racing club and the Commodore has been encouraging us to race, so myself and Michael Costelloe (another graduate from John Kelly's May course!) have entered the Spring Race Series!! We are way off the pace but having fun!!
I am currently part way through the 2016 intermediate course which, along with the racing, makes you realise that this really is a skill to master;
In the summer, we are going to take the boat to different waters and into the sea (perhaps Abersoch as a "safer" start).
We're back in Spain in August and closer to the sailing club this time 😏 !! – Probably more racing too – if the others can cope!!
A few words from…
Ellie: I was really nervous and self-conscious about starting sailing, especially as I was the oldest and felt I had something to live up too. But there was nothing to be worried for as I was welcomed quickly and I was at the same level as everyone else. I enjoy sailing, it's a great activity for all ages and sounds cool too!
Abbie: I wasn't very sure about sailing but I'm very glad I started as I have enjoyed it ever since! I started by going on my Dads boat and then I decided to do a course. We were all warmly welcomed and there was nothing to worry about! I really enjoy sailing and I recommend it to anyone and everyone. It is a great hobby and I'm glad I took it up!
Lucy: It's really fun and always has! I like going MAN OVER BOARD! (and I like capsizing sometimes) The only thing I don't like is putting on the wetsuit, its tight and quite hard to get on!😩 its good and I'll probably do it till I'm as good as daddy!! 😀
Some things we've learnt and common misconceptions:
Sailing is very affordable – whether you buy a second hand boat, or just use the club boats (rented out) – you don't have to go mad. Once you have the clothing and are a member, you are ready to go.
When you join, you think everybody else has been a member of the club for years and you are joining their club. Not true – many members – regardless of age – may have only been a member for a year or so (not sure what the actual statistic is).
The adult RYA1&2 course was a really great way to get to know the club and the people – an invaluable start to sailing and I can't recommend it highly enough.
There are a lot of very experienced and able sailors at the club, who are more than happy to share advice and give tips.
Respect the weather – keep an eye on what the weather is doing and only sail within your limits.
Pennington Flash is only a lake and you can pretty much swim to the side, but you can soon get into trouble, so you need to respect the weather and be safety conscious.
Apparently, dinghy sailing is the best way to build up your sailing skills, even if you want to move up to larger boats. Being in tune with the wind and controlling the boat will stand you in good stead wherever you go next.
The Shepherds
The final word… Joanne: if you're unsure just go for it and I'll guarantee you'll enjoy it!