Tense finish to Guy Fawkes Pursuit Race
Andy Dawson was the clear winner of a very tight finish to the Guy Fawkes Pursuit Race at Leigh & Lowton Sailing Club on Sunday November 3rd.  All the top 6 finishers were within 50 metres of each other at the finish, making the OOD split them carefully; difficult when asymmetrics are sailing a different direction to the rest of the fleet downwind!
A force 2 saw the groups of youngsters come off the start line well with a strong Topper fleet and 2 Teras.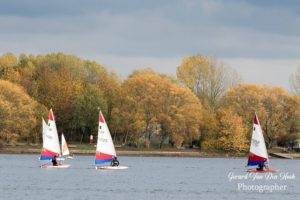 The Lasers and Solos had a particularly good battle for the lead in changeable conditions as the race developed.
Meanwhile the asymmetric and other handicap boats started the chase down from the back.  The race went to plan for the OOD with some good beats and downwind legs until the wind decided to switch 40 degrees to the East against the forecast resulting in tighter reaches and one-sided beats for the last couple of laps.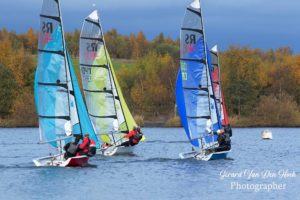 After a good tussle throughout the afternoon, it was Nat Pritchard-Jones (LLSC) who took the first junior honours and the Guy Fawkes Plate, with Thomas Link (LLSC) in close attendance.  Leah Fidling (Chester/LLSC) and Noe Peckham (LLSC) weren't far behind and the juniors did well to compete with the faster boats for so long in difficult conditions.
Towards the end at the front of the fleet the Lasers of Andy Dawson (LLSC), Greg Marshall (West Lancs) and Ollie Blackburn (LLSC) battled it out with the Solos of Nik James (LLSC) and Malcolm Waddington (LLSC).  Greg made a course correction error that cost him dear, while the Asymmetric fleet charge was lead by Richard Catchpole and Gary Coop (LLSC), after overhauling Chris Pickles and Mark Lunn (Delph).  Julia Bowden was first lady in 8th place in a GP14 with Joe Hartigan.
Andy just held off the fast approaching RS400 of Richard and Gary in a dying breeze to take the event with Greg having to settle for 3rd place on the podium.
Andy and Nat were worthy winners of this annual event.
Full results:
http://www.llsc.org.uk/LLSC/Results/2018/GuyFawkesPursuit.htm
Pictures courtesy of Gerard van den Hoek and Catherine Catchpole.