Sunshine & Shifts for the Revett Series Opener
The first Sunday of the Revett winter series at Leigh & Lowton Sailing Club brought a light drizzle for the early risers, but sunshine for the rest of the day. The OOD Dave Exley and his team overcame some testing conditions to set true upwind legs and the 50 competitors were rewarded with some excellent, if shifty, racing in a 5-12 knot S/SW breeze.
First out of the blocks (with not a general recall in sight) were the Laser fleet. Paul Heath took a storming lead to dominate race 1 and win with a 2-minute lead. In the second race things were a little tighter with Andy Dawson (LLSC) keeping Howard Green (LLSC) at bay to take the gun by a few boat-lengths. Andy leads the series so far with plenty of battles to come, Paul and Howard lie 2nd and 3rd.
A good range of boats were on the start line for the handicap fleet. Steve Blackburn (West Lancs) took command of the day with double-bullets in his Enterprise. Behind him the best of the rest was Martin Knott (Ribble) in his Phantom with a 2,3. Steve Dawson (LLSC) and Steve Norris (LLSC) battled it out in a tight tussle for the other Phantom honours, sharing the spoils one apiece. Meanwhile, Mike Budd and Mark Greaves (LLSC) made their return to LLSC count to claim a 2nd place in Race 2 in their Merlin Rocket.
The Asymmetric Fleet had close racing all day with plenty of position changing upwind and downwind in the tricky winds. Richard Catchpole/Gary Coop (LLSC) and Chris Pickles/Laura Pickles (Delph) shared the line honours. Stuart Halman/Anna Walsh (LLSC) picked up a 3rd place, and the RS200s of Gareth/Jen Williams (LLSC) and Louise McKeand/Cathy Partington (LLSC) were very much in the mix with 3rd and 4th places.
Brian Sprague (LLSC) took an early grip on the series cementing two bullets, a close finish with Tom Welz (LLSC) in the first race and running away with it in the second. Malcolm Waddington (LLSC) took 3rd in the first race while Nik James (LLSC) and Andy Fox (LLSC) took podium positions in that order in the second. Andy currently lies second overall with the most consistent points score after Brian.
The juniors were ably led round by Leah Fidling (LLSC/Chester) with 2 clear wins in these lighter conditions. Thomas Link (LLSC) was not far behind while Elise Busby (LLSC) and Elena Mecklenburgh (LLSC) share the 3rd places out. There is plenty more to come from this fleet during the series as the conditions change.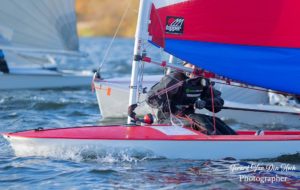 A great start to the winter at Leigh & Lowton – this Revett Series has 4 more weekends to run before the Christmas Break, followed by the New Years Day Pursuit and the Marlow Ropes Icicle Series over 11 weekends in January to March as usual. All events are open to visitors and can be entered online at:
https://webcollect.org.uk/orgadm/index.php?page=event&action=event.view&event_id=32246
Full results are available at:
http://www.llsc.org.uk/LLSC/Results/2018/Revett.htm?v=1
Y&Y report:
www.yachtsandyachting.com/news/212142/Leigh-and-Lowton-Revett-Series-day-1