Solo, Enterprise and Streaker Open
A great turnout of 54 boats made the trip to Leigh & Lowton Sailing Club for the 2018 Solo, Enterprise and Streaker Open. The light winds forecast came in mid-morning to set up what looked like a good day's sailing. In the event the wind proved a little more fickle with 4-8 knots coming through and fluctuating through the day.
The OOD Mike Baldwin tussled with changing winds to set the fleets off with a little delay, with the 30 Solos setting a firm pattern for the day with their first general recall, restarting on a black flag, with the other fleet starts kept their noses clean.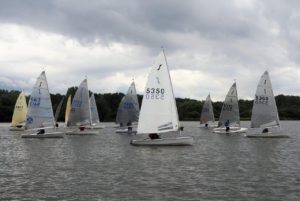 Plenty of recalls in the Solo fleet!!
In the Solo fleet, Luke Shaw (Budworth) hugged the stronger breeze on the shoreline to take control of race 1, with Richard Catchpole (Leigh)and Steve Denison (RYA) in close attendance. Race 2 saw a new leader at the front in the form of Andy Tunnicliffe (Burwain), but he was overhauled on the last lap by Richard Catchpole who took the win with Lee Tennant in 3rd. With a final race left to settle things a black flag start was required, and many competitors were declared OCS. Luke Shaw took second place on the water which was enough to win the event, but was then promoted to 1st by the black flag frenzy. Tony Wright (Delph) and Stephen Graham (Burwain) mopped up the other podium positions.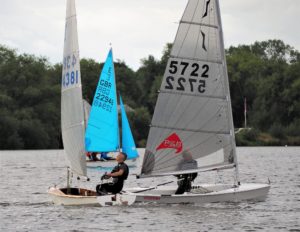 Luke Shaw and Richard Catchpole battle it out
The Enterprises were dominated by Tim Saddler and Gabe Hill (Yorkshire Dales/West Lancs), winning all 3 races. After a slower start to the day Steve Blackburn and Ian Richie (West Lancs/Leigh) picked up the pace with two 2nd places to clinch 2nd overall while Ges Brown and Julie Moore (SCYC) pipped locals Dave Southwell and Danielle Booali to 3rd place.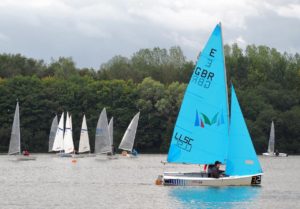 Leigh & Lowton were well represented, Harvey and Lewis here
Phil Manning (Delph) did the same to the Streaker fleet with a 1,1,1 score, clearly reveling in the light conditions. Ian Priest (Scaling Dam) followed up to take 2nd place on a tie-breaker from local sailor Graeme Bristow (Leigh).
All in all a good day's sailing and a great turnout.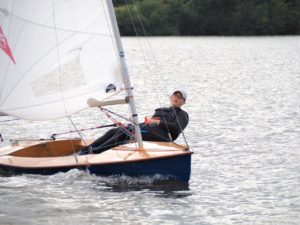 Steph borrowed a boat for the event!
Results:
Solos
1st Luke Shaw (Budworth SC)
2nd Richard Catchpole (Leigh & Lowton SC)
3rd Lee Tennant (Burwain SC)
Enterprises
1st Tim Saddler/Gabe Hill (Yorkshire Dales SC/West Lancs YC)
2nd Steve Blackburn/Ian Richie (West Lancs YC/Leigh & Lowton SC
3rd Ges Brown/Julie Moore (SCYC)
Streakers
1st Phil Manning (Delph SC)
2nd Ian Priest (Scaling Dam)
3rd Graeme Bristow (Leigh & Lowton SC)
Full results available: http://www.llsc.org.uk/LLSC/Results/2018/SoloEntStreaker.htm