"Heat wave" hits the last weekend of the Icicle Series
A positively tropical day after the extreme cold of the last few weeks was just the tonic for the last week of the Tipsy Icicle Series at Leigh & Lowton Sailing Club on Sunday 11th March. Competitors enjoyed a 5-7 knot light wind race in the first followed by 10 knots gusting 14 in the finale. The wind oscillated between East and South East for most of the day giving the sailors some of the best sailing of the series, with plenty of passing opportunities and windward-leeward courses for the Asymmetrics.
It brought to conclusion a series that has had everything from zephyrs to 30 knots and sub-zero temperatures to the final day's double digits. With only one race lost due to a sustained 36 knot squall a few weeks ago, it has been a spectacular series with close competition and good camaraderie across all the fleets.
With some fleets decided and Mother's Day on people's mind the turnout was understandably a little below par this week. There has been an average of 50-60 boats over the series with a peak of 73 for one race.
Many thanks to all the club volunteers, our OODs and the galley who have made all this possible week after week through the winter. Special thanks to Gerard can den Hoek who provides us with such spectacular photos each week!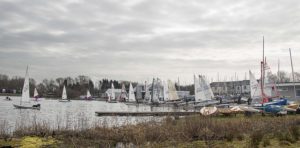 Lasers
Paul Heath (LLSC) took charge of the first race of the day, leading from start to finish. There was plenty of place changing behind before Graham McWhirter (RYA) took 2nd and Gary Knott (Pennine) 3rd. The first two boats in the series (Jack Hopkins and Tim Keithley) were absent for this last week, but 3rd place overall was still up for grabs. Charlotte Greenhalgh showed pace to claim a bullet in the second race, but the key battles were going on behind – Gary had to finish two places ahead of Graham to overhaul him on the leaderboard, but could only manage one ahead and so Graham took 3rd place in the series on countback. Patrick Hamilton (Burwain) and Paul Heath picked up 2nd and 3rd places respectively.
Handicap
There were some pushy starters in the fleet this week – a general recall in Race 1 and several boats recalled in Race 2 kept the OOD busy. The first race remarkably finished with a dead heat on handicap between Cathy Partington (LLSC) in an Aero and John/Nikki Carlin (West Kirby) in their Albacore. Steve Dawson (LLSC) picked up 3rd place in his Phantom. These results set up the opportunity for the Carlins to climb to 3rd place in the series, which they duly did with a 2nd place in the last one. After an uncharacteristic first race Steve Blackburn (West Lancs) made amends with a bullet in the last. Zena Martin/Leanne Pilkington (Bolton) claimed a first podium position with a 3rd.
Asymmetrics
The series podium places were already decided in the Asymmetrics before racing started, but the fleet still had some great racing on their windward-leeward course. Richard Catchpole/Gary Coop (LLSC) broke away in both races to claim two bullets, but there was a battle royale behind as Mark Dingsdale/Vanessa Evans (LLSC) and Stuart Halman/Andy Dawson (LLSC) locked horns, both beating each other once during the day. A great performance from Olivia Cuthbert/Lelia Peckham (LLSC) in their RS200 earned them a 2nd place in the first race.
Solos
Innes Armstrong (Burwain) clocked up another bullet in Race 1 to enhance his position as No.1 in the series, while Brian Sprague's two 4th places were enough to guarantee him 2nd spot overall from David Tunnicliffe (RYA). On the day we saw a number of new faces at the front – Tony Sampson (SCYC) took a 1,2 finish while Andy Fox (LLSC) was 2nd in the last. David Tunnicliffe and Steve Ferrington (West Kirby) picked up the 3rd places between them.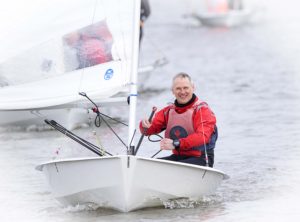 Juniors
Noe Peckham (LLSC) has sailed a consistently good series and once again produced a great display to finish his series with two bullets and the overall victory. Unfortunately, due to squad commitments, Thomas Fielding-Link (LLSC) was unable to contest the overall result. They have been neck and neck all winter and it's been a great rivalry to follow and a shame they couldn't have had the last weekend racing together. Ben Welfare (LLSC) once again excelled in his Optimist to secure 3rd place overall in the series. Sisters Jade and Courtney Yarwood (LLSC) decided to pose some entertainment for the OOD in the last race by dead-heating on the finish line for 3rd!!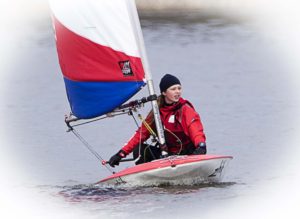 That's it for this year's Icicle, a great series for all the competitors and the winners took home their own icicle trophies from the prizegiving.
Full results available here:
http://www.llsc.org.uk/LLSC/Results/2018/Tipsy.htm?v=1
Next week, on Sunday March 18th, it's the RNLI Open Event (a one-off day event to raise money for RNLI) with asymmetric, handicap and junior fleets planned for this event, once again race managed by Peter & Judith Baldwin.
Enter through the link below to donate to charity in our annual fundraiser, or enter on the day at the club – no entry needed or entry fee for club members, but please donate an appropriate amount at the desk on the day:
https://webcollect.org.uk/llsc/event/winter-2017-2018
Finally, a couple of close shaves………….