Drifting Conditions for Guy Fawkes Pursuit
The bonfire smoke had clearly affected the weather conditions as competitors arrived to find the Flash completely engulfed in fog and no wind. As the OOD Howard Green carried out the briefing to less than optimistic competitors, the mist began to clear and we could see the far side of the lake by the end of the briefing.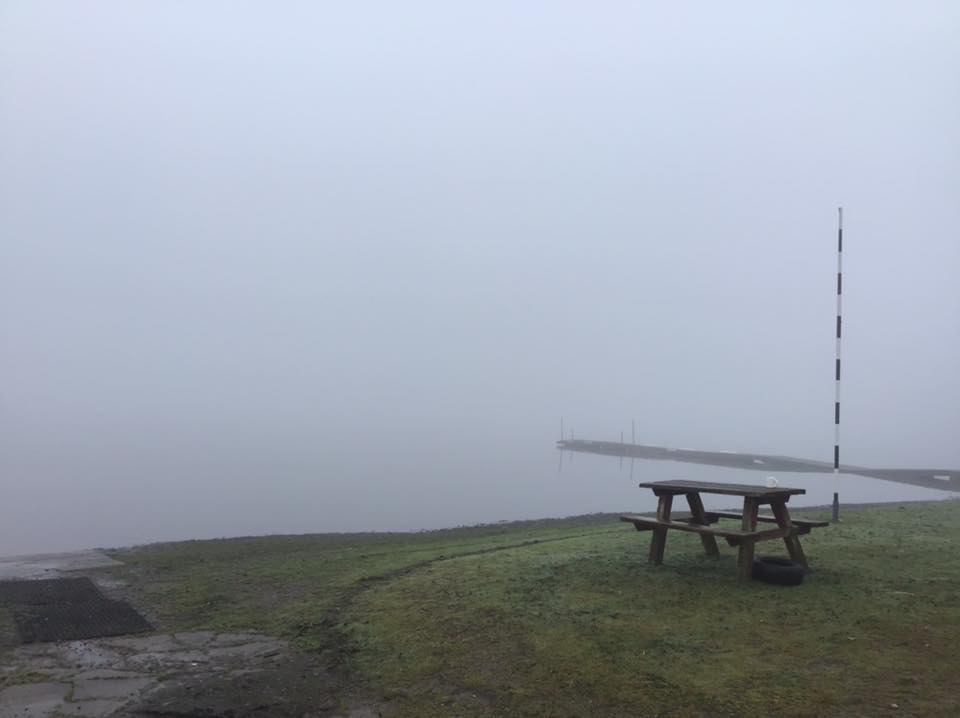 The Optimists of Alex and Ben Welfare were first off on what turned out to be a running start with the early light wind filling in 180 degrees away from the forecast direction. The slower boats followed and it was only when the faster boats started that the wind filed in from the right end of the lake. The wind only built to 5-6 knots and was patchy across the lake. The asymmetric boats had the advantage of being able to hunt the breeze downwind and soon the RS400s and RS200s were in contention.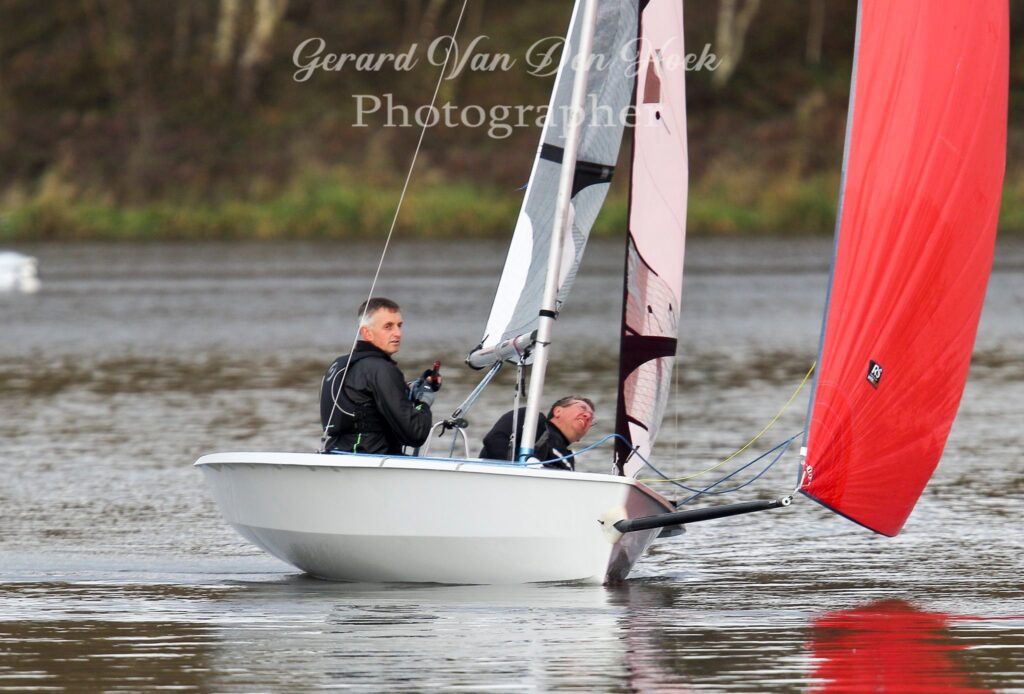 Despite some wayward navigation, Richard Catchpole and Gary Coop (LLSC) hit the front mid-way through the race, but with a dying fickle wind it was never going to be simple to hold on to any lead. A large storm cloud passing down one side of the lake killed what was left of the breeze, making for a tense finish.
The Phantom of Martin Knott (Ribble), the RS400 of Mark Dingsdale and Vanessa Evans (LLSC) and Wayfarer of Loiuse McKeand and Nigel Hall (LLSC) crept closer to the leader in the fickle breeze. But in the end Richard and Gary held them off to win.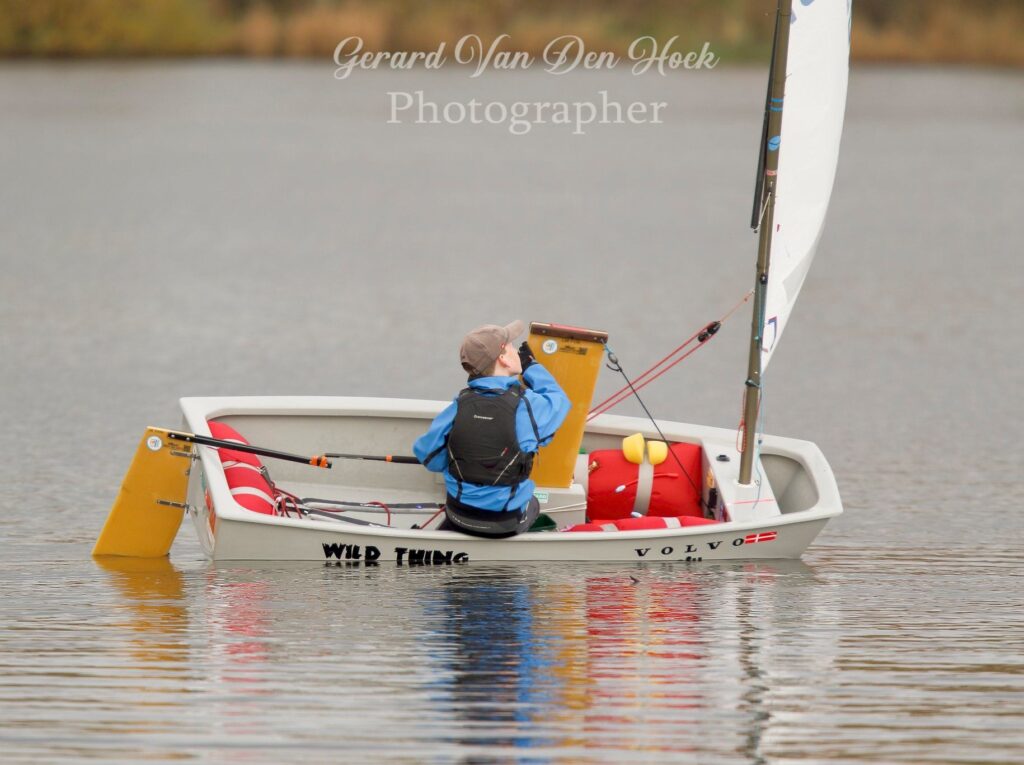 The juniors were overtaken early in this race due to the early light wind conditions but even so the leaders finished in the top 20. Ben Welfare (LLSC) hung on claim victory from a chasing Daisy Fischer (Hollingworth), with Alex Welfare (LLSC) and Paul Roberts (LLSC) persevering to finish a long demanding race.
1st Place – Richard Catchpole & Gary Coop – RS400 – LLSC
2nd Place – Martin Knott – Phantom – Ribble
3rd Place – Mark Dingsdale & Vanessa Evans – RS400 – LLSC
4th Place – Louise McKeand & Nigel Hall – Wayfarer – LLSC
5th Place – Richard & Lauren Marsh – RS200 – Hollingworth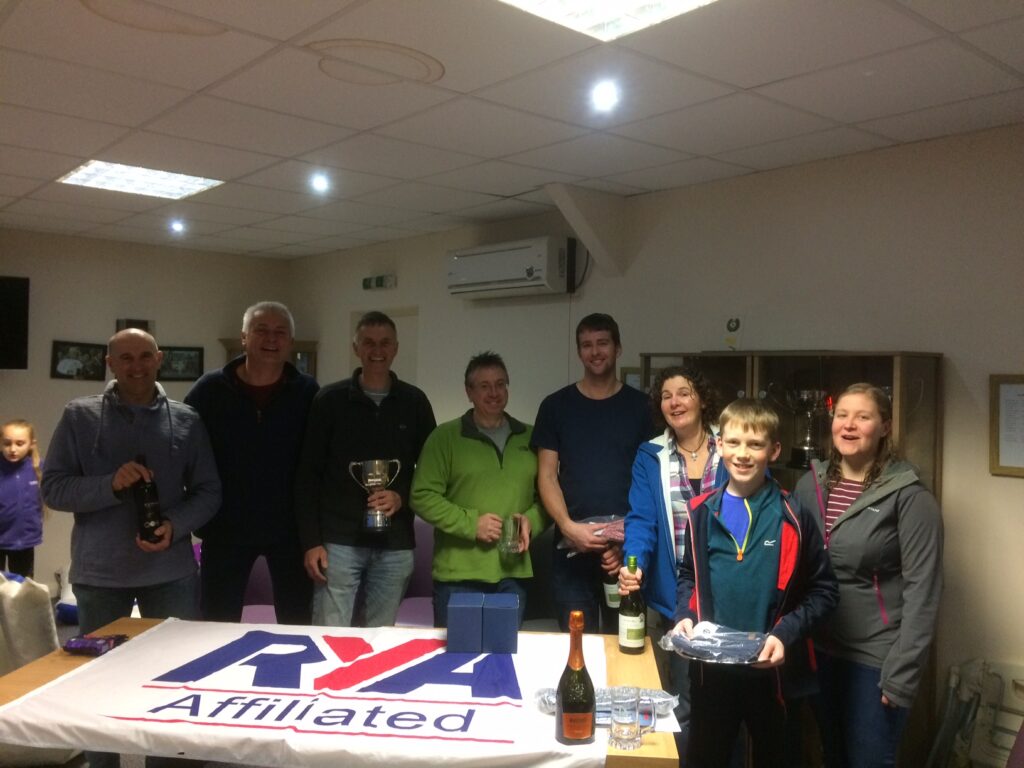 Pictures courtesy of Gerard van den Hoek, Yvette Merga and Catherine Catchpole.
Full results at:
http://llsc.org.uk/LLSC/Results/2019/GuyFawkesPursuit.htm
Y&Y report:
https://www.yachtsandyachting.com/news/223816/Guy-Fawkes-Pursuit-Race-at-Leigh-and-Lowton?source=email