Blowing "old boots" at the Endeavour Trophy
Lorcan Knowles, a long standing junior member at the club, qualified for the Endeavour "Champion of Champions Trophy" this year by winning the Laser 4.7 Nationals hosted at Plymouth.  The event takes place these days in RS200s at Burnham-on Crouch with all the National Champions from fleets with 50+ competitors invited to take part, a very prestigious event.
The RS200 is an unfamiliar boat for Lorcan and he had got practice and tips beforehand with club members and his chosen crew Annabel Page.  Nothing could quite prepare them for what was in store!!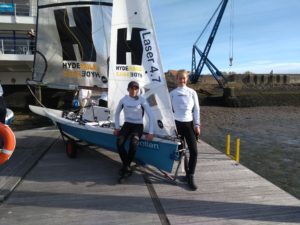 With much enthusiasm, final training on Friday in the RS200 took in winds of 26 gusting 39. Lots of spills and thrills but good practice .
The Saturday racing for the 30 strong fleet was at the join of the rivers Roach and Crouch with medium winds on the way out but then rising to the same as Friday.  Unfortunately for many sailors Ben Saxton, current world Nacra 17 champion and Olympic sailor was so fast that groups of sailors were timed out for finishing outside 15 minutes behind including Lorcan.  So 31 scored on the first 2 races.  That together with OCS on race 3 led to a glum face when he returned to shore after finishing all four day one races and found out.
On Sunday the wind was very light going out, leading to short delay, then began to rise. Ultimately scoring a 6, 15, 14, a much better day lifting him to 2nd junior class out of 4 entries and 24th overall, but in the process beating many of the youth and senior classes in the Sunday races.
Not as good as he was hoping, but he now heads back to laser sailing with no other distractions other than A levels!!
Well done from LLSC Lorcan, you did us proud!
Full write up:
https://royalcorinthian.co.uk/story/2001155/endeavour-2018-opening-day
https://royalcorinthian.co.uk/story/2001156/endeavour-2018-final-day