Storm Emma fails to disrupt Week 9 of Tipsy Icicle Series!!
After a week of gales, snow and ice a perfect day transpired on Sunday 4th March for the next installment of Leigh & Lowton's Tipsy Icicle Series. Jetties and slips had been de-iced ready for launching the ribs and committee boat, while weather damage to certain parts of the jetties did not impede access to the water.
All that effort was rewarded with a classic day's racing, an East to ESE oscillating wind in the 8-9 knot range, with gusts to 12 and one lull to 5 in the second race. The fleets were pushing the line throughout the day with general and individual recalls being required to keep things in order.
Windward-leeward courses with their own leeward mark worked well again to separate the asymmetric fleet from the rest. 50 boats braved the week of snow and ice to take to the water. We've seen increased turnouts this year, up by 10-20% from last year on average, notching up approx. 60 boats on average each week and nearly 150 entries across the series, well done to all the organising teams for an excellent series so far – on and off the water.
Lasers
After a general recall restart, Mike Baldwin (LLSC) took an early lead in the Lasers only to find one of the gybes a little unstable! Patrick Hamilton (Burwain) took charge of the first race, hotly pursued by Gary Knott (Pennine) and Graham McWhirter (RYA). The second was a very tight affair with plenty of place changing and boats bunched together on the final run down. This time Paul Heath (LLSC) took line honours with Ian Webber-Rostron (Delph) managing his best result of the series with a 2nd and Glynn Purnell doing the same with his 3rd place.
Handicap
We've got used to seeing the Streaker of Steve Blackburn (West Lancs) out in front in this series and he repeated the feat in the first race before giving himself a handicap in the second by being recalled. Andy Flitcroft (Bolton) picked up the other bullet of the day making his a very consistent series and cementing his second place overall. Mike Banner/Mark Atherton (LLSC) sailed well to pull themselves up the leaderboard and in striking distance of taking 3rd spot in the series ahead of the final showdown next weekend.
Asymmetrics
Richard Catchpole/Gary Coop (LLSC) got clean away off the start line in the first and never looked in much trouble despite the new combination of Bill Keynon/Cathy Partington (Budworth) finding good speed downwind on the right side of the course. Chris Pickles/Mark Lunn (Delph) came in 3rd and then recovered from a difficult start in Race 2 get room on Catchpole/Coop on the last leeward mark to take the race; some close-tacking match racing up the final stretch entertained the crowds! Jon Chapman/Wendy Martin (Budworth) finished 3rd in their RS200 once the handicaps came into play. Not enough breeze for the 29ers to trouble the RS contingent this time.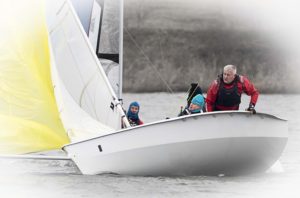 Solos
Innes Armstrong (Burwain) once again showed why he has the lead in this series, with a 1,1 display that leaves us in no doubt who is taking the 1st place trophy home this year. David Tunnicliffe (RYA) was next best placed for the day with two podium spots, leaving himself with a chance of overhauling Brian Sprague next week in the overall standings. Kim Cant (LLSC) was back in action this week and claimed 2nd spot in Race 2.
Juniors
There is no quarter being given at the top of the junior fleet and for the 3rd week running there is only a point splitting Thomas Fielding-Link (LLSC) and Noe Peckham (LLSC) on the leaderboard. This week it was Thomas' turn to take charge with a 1,1 to overhaul Noe. Courtney Yarwood (LLSC) in her Topper and John Bridgeman (LLSC) in his Tera picked up the 3rd places between them.
Next week is the last week in the series with two more races and prizegiving to come, some fleets are decided but a good number of places are up for grabs. Come and enjoy one more weekend's racing ahead of the RNLI trophy day.
Full results available here:
http://www.llsc.org.uk/LLSC/Results/2018/Tipsy.htm?v=1
Following on from this series, on March 18th is the RNLI Open Event (a one-off day event to raise money for RNLI) with asymmetric, handicap and junior fleets planned for this event, once again race managed by Peter & Judith Baldwin.
Visitors please enter through the link below to donate to charity through your entry fees in our annual fundraiser, or enter on the day at the club – no entry needed or entry fee for club members, but please donate an appropriate amount at the desk on the day: