RS400 Winter Championships 2018 sponsored by Rooster & Rope4Boats
A good turnout of 25 boats made the trip to Leigh & Lowton Sailing Club for the 2018 RS400 Winter Championships. Forecasts of light N to NW winds were understated as the fleet had some good tactical winds with enough pressure to get those early-season hiking muscles warmed up, particularly on the second day. Both days started with a mill pond but filled in to give some great close racing.
The OOD Gareth Williams did a tremendous job to give fair windward-leeward courses throughout the weekend, the black flag made a consistent appearance on Day 2 to keep the fleet tamed after a couple of recalls.
Chris Pickles and Matt Sharman sailed a remarkably consistent series in a tight fleet to win with a race to spare, without having a result outside the top 2 and only winning one race. Considering the fluctuations in results in other parts of the fleet this demonstrated great boatspeed and wind awareness, worthy Winter Champions! Thanks to our sponsors Rooster & Rope4Boats for supporting the event.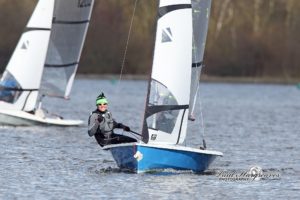 Day 1
Richard Catchpole/Gary Coop (Leigh & Lowton) made a great start to the day in shifting breeze, getting a jump on the fleet early on to stretch their lead for a comfortable victory. Chris Pickles/Matt Sharman (Delph) and Dave Exley/Nigel Hall (Leigh & Lowton) came back from difficult first beats to claim 2nd and 3rd.
Race 2 saw Exley/Hall build a commanding lead with Pickles/Sharman in pursuit. Sam Knight/John Knight (Bartley) battled for 2nd place but had to settle for 3rd in the end.
In the final race of the day, Pickles/Sharman made their intentions clear by taking an early lead off a great start and were never headed to the line. Exley/Hall picked up 2nd place to make them runners up overnight (but double-booked for the Sunday so not able to capitalise), while The Knights clocked up another podium position to finish the day in the mix.
Après Sail consisted of a great club curry and (a few!) scoops. Several rounds of Stump (or Hammerschlagen as it's known in the provinces!) followed before the night wrapped up and sailors found their tents and vans.
Day 2
Clearly the night-time activity suited The Knights as they caught the rest of the fleet knapping in the first race of the restart, winning by a clear margin. Pickles/Sharman were in close attendance again, while Catchpole/Coop came through from deep in the pack to pick up 3rd spot.
Catchpole/Coop and Pickles/Sharman had a battle all the way round in Race 5, with Catchpole/Coop taking it on the final lap. Sean Cleary/Annalise Nixon (Oxford) had been improving all weekend and secured 3rd place, holding off the attentions of The Knights.
Going into the last race, Pickles/Sharman had the event sown up by a point, but there was a close call for 2nd with The Knights having to beat Catchpole/Coop by 2 to take it. John Heissig/Nicky Griffin (Llangorse) had saved their best until last after a winter layoff top storm into the lead off a flying start and never be headed. Pickles/Sharman were in their favourite spot of the weekend once again in 2nd. The Knights sailed consistently well again to take 3rd place, but with Catchpole/Coop pulling through to a solid 4th it wasn't enough to change the overall results.
The fleet head to the Rutland Sprints for the next stage of the Rooster National Tour, prizewinners below: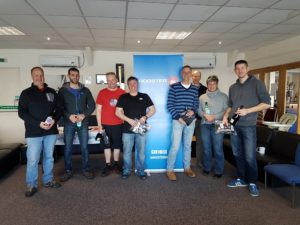 and Bassenthwaite for the next Rope4Boats Northern Tour event.  This weekends' lucky dip winners of Rope4Boats vouchers were Howard Green and Terry Oliver: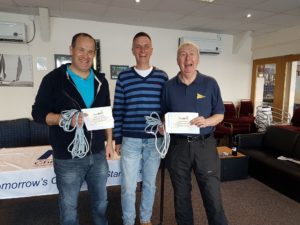 http://www.yachtsandyachting.com/news/203425/RS400-Winter-Championship-at-Leigh-and-Lowton
Photos courtesy of Paul Hargreaves Photography, Gerard van den Hoek, Martin Tubb and Vanessa Evans.