Junior Winter Regatta – a real icicle affair
40 competitors made up a strong field at the Leigh & Lowton annual Junior Winter Regatta.  It was a day for cold feet and lots of hot chocolate!!  A cracking day's racing was held in a near perfect North Easterly F2-3 wind, but the day was biting cold and a number of the sailors were struggling to keep warm.
With 29ers through to Optimists the fleet was diverse and of a high quality with many zone and national squad sailors present.  The OOD Mike Baldwin did a great job to get 3 good races completed in the short daylight hours.
In the Youth/Handicap fleet Steph Wingeatt (LLSC) took all 3 bullets in good style to win, while Lorcan Knowles (LLSC) recovered from a difficult first race to finish 2nd overall, with Tom Brindley (Redesmere) a more consistent performer finishing 3rd overall.  Lewis Coop (LLSC) and Marcus Howard (Redesmere) and picked up 4th and 5th respectively.  Jac Bailey was first U14 sailor in his Tera.
The Toppers had some great close racing up the front with Thomas Fielding-Link (LLSC) doing much of the front running, but Austin Wright (Pennine) scooped first place overall with a strong finish to the last race.  William Burbedge (Chester) won the last race to clinch 3rd place, while Millie Healey (Pennine) had to be content with 4th despite winning the first race.  Thomas also picked up the 1st U14 trophy.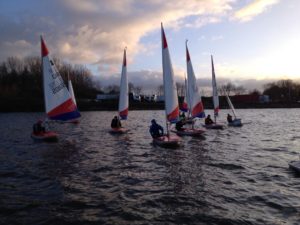 The Optimist racing was close with Patrick Beukenholdt (Derwent) winning out from local boys Ben Welfare (LLSC) and Oliver Fielding-Link (LLSC).
All in all a great day, many thanks to all the visitors for coming and making the event, especially to Port Dinorwic who picked up the box of chocolates for bringing the most travelling competitors.
Full results available here:
http://www.llsc.org.uk/LLSC/Results/2018/JuniorWinterRegatta.htm
Link to Y&Y report here:
http://www.yachtsandyachting.com/news/200937/Leigh-and-Lowton-Junior-Winter-Regatta?source=email
The Tipsy Icicle Series now continues on until March every Sunday, online entries still open through the link below:
https://webcollect.org.uk/llsc/event/winter-2017-2018