Prizegiving and Xmas social
Over 100 members turned out for the Prizegiving and Xmas social despite the risk of being snowed in.  In the end the snow held off and a good time was had by all.  The night started with the prizegiving with Mark Dingsdale and Vanessa Evans deservedly picking up the Club Champions Trophy in their first full season together in their RS400.  Brian Sprague dominated the Solo fleet to take Solo Club Champion and Lorcan Knowles picked up the Junior Champion award after a tremendous season winning the NW Topper Travellers and competing in many national events.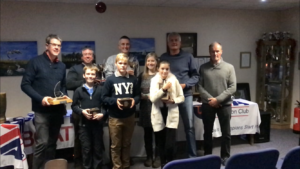 Trophy Day winners were Richard Catchpole/Gary Coop with the Henderson Trophy and the Harry Budd Memorial Trophy, Olly Blackburn the President's Rosebowl and Gareth Williams the Taylor Trophy.
The prizegiving was followed by kids vs adults games session where skills were tested in a cauldron of noise and chaos, skilfully manoeuvred through by quizmaster Dave Exley and family.  After all that excitement all that was needed was to wrap up the evening were the answers to the quiz.  For those that took the younger children away before all the answers here here's a link to the pictures and answers:
Hope everyone had a great time and looking forward to the kids Xmas party this coming weekend and New Years Day racing.  See you then.