Prizegiving Buffet and Xmas Party
90 signed up to go already, only 30 places left for our Prizegiving and Xmas Party!!
Following on from last year's successful bash and in recognition of another very successful year at the club we have (including free buffet):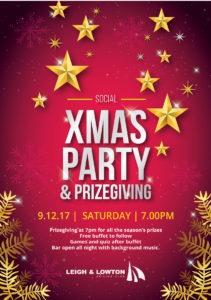 Prizegiving Buffet and Christmas Party at LLSC on Saturday 9th December, 6:30 for 7:00, kids welcome
Bar open from 6:30pm
Prize giving from 7:00pm until ~8:00pm
Sit down Buffet is free but must be booked in advance through webcollect or at the galley for numbers, see below – no ticket, no food!!!!!
Games, quiz and music after buffet
https://webcollect.org.uk/llsc/event/prizegiving-buffet-and-christmas-party